Karel Velebný, Jazzoví sólisté, Československý All Stars Band
Československý Jazz 1966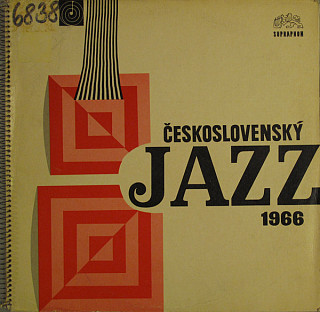 Info
Release:
1966
Catalog:
DV 10234
Label:
Supraphon
Record grading:
VG+ used - slighty wear
more info here
Description
LP Compilation, Club Edition, Mono
mirne odreny obal
Hard Bop, Contemporary Jazz, Avant-garde Jazz

A1 –Jazzoví Sólisté Ztráta Nalezeného Syna 6:05
A2 –Jazzoví Sólisté Danyáda 5:55
A3 –Jazzoví Sólisté Písničko, Prostři Se 5:10
A4 –Jazzoví Sólisté Hladové Poledne 5:15
B1 –All Stars Radary Nad Městem 5:05
B2 –All Stars Dvojitý Nelson 5:10
B3 –All Stars Pouť V Elipse 12:50
Limited edition available to club subscribers only, not in regular retail stores.
Packaged within a spiral-bound cardboard sleeve with printed front cover and a sewed plastic bag, including 4 sheets (identical for mono/stereo versions) with credits, liner notes and photos. Main artists credited in the liner notes.
Karel Krautgartner, Jaromír Honzák, Jiří Mráz, Rudolf Dašek, Jaromír Hnilička, Karel Velebný, Karel Růžička, Karel Vejvoda...